Wildfire pioneer launches 300-seat CBD venue
---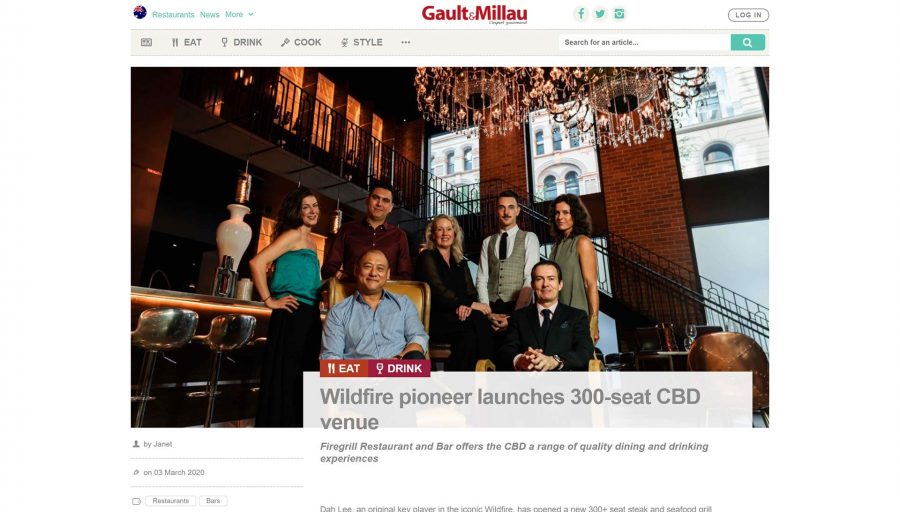 Firegrill Restaurant and Bar offers the CBD a range of quality dining and drinking experiences
Dah Lee, an original key player in the iconic Wildfire, has opened a new 300+ seat steak and seafood grill restaurant and bar complex called Firegrill.
Lee, who consulted on the launch of Wildfire in 2002, is a well-known New Zealand restaurant developer and designer.
Just a block from Martin Place, Firegrill is located in Barrack Place, a new office and dining precinct. Firegrill runs over two levels fronting both Clarence Street and Kent Street, running the length of a newly built laneway. The Clarence Street end is home to a casual street-level bar and restaurant with a quartz-backed 8m-high wall of wine, with the private dining room and event space above, overlooking the 9m-long quartz bar below. The ground floor of the Kent Street part of the venue houses the main open kitchen with several chef's tables, as well as tall tables and chairs overlooking Kent Street through 7m-high windows. The luxe 50-seat mezzanine dining area and bespoke cocktail bar is above on the first floor overlooking Kent Street and the courtyard. Both ground floor spaces feature 3m-tall chandeliers while the outdoor courtyard with casual dining and a pop-up bar splits the two ends of the building.
Read more at https://au.gaultmillau.com/news/wildfire-pioneer-launches-300-seat-cbd-venue